10Oct., 2014, DTII-400 come into our company in an urgent needs, which become one members of us, except DT-110, JH-21 110T (Yangli), and JH21-200T of Yandon press.
The detailed specification of it as following:
Lower table: 2700*1200*200, 
Upper table size: 2700*1200*125, 
Max. die shut height: 600mm)
Stoke: 20-35 SPM
Stroke length: 300mm
Slide adjustment: 120mm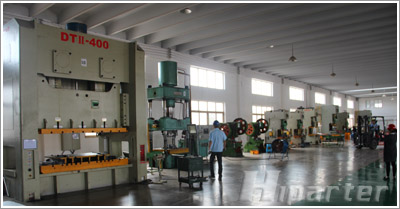 In order to adapt to our fast increasing on the automotive fields, DTII-400 enable us to test not only the small automotive and home appliance parts, also medium and big automotive and home appliance parts, like auto seat side frame, chassis side members, cross members, auto panel, frame, gas stove parts, microwave parts, air conditioner parts, etc.
With the help of DTII-400 press machine, we quick and smoothly finish the delivery of Ford, Fiat automotive stamping dies projects for our customers in Turkey and South Africa. Since T0 to final T2, DTII-400 offer us much support for the die test and adjustments after test, and win the complete satisfaction of our customers.
DTII-400 apply totally Germany technology, which focus on high precision heavy metal press machine. It is widely used on the automotive companies, like for GM, Hyundai, VW, AUDI and so on. Believe, it will help us to provide more better service for you, and our customers around the world.